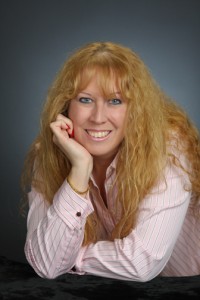 Christina James lives in a Boston suburb with her two children. They have two very spoiled yellow labs, Comet and Sassie, who truly believe they are lap dogs even though they weigh over 100 pounds!
For years Christina has had stories in her head, stories of romance and heartache, stories of overcoming the odds. She writes with a passion to make all her characters realistic so the reader can fall in love with them as much as she does. A sucker for a good love story, Christina writes hot, sensual romances with a little sarcastic wit and some humor, in a contemporary setting.
A big fan of a man in uniform….and without….Christina's heroes are Alpha males with that hidden tender side that the heroines oh so enjoy unwrapping! Christina's heroines are always smart and self-sufficient with a good dose of sarcastic wit and temper to keep any man on his toes. Addicted to the art of flirting, Christina enjoys enhancing her plots with a high dose of sexual tension that can bring even the strongest man to his knees. And what heroine wouldn't enjoy that?
She is a huge supporter of the men and women of the US Military and has the highest respect for them putting their lives on the line every day for our freedom, a freedom which allows Christina to write about what she enjoys most…romance! Support Our Troops!
Christina enjoys reading and exercising, cooking and traveling, spending time with friends and family, romantic walks on the beach, or just listening to the rain fall. She is a major fan of The Walking Dead with Rick and Darryl her main men and can't get enough of the show!
Christina has lots of writing projects ahead and hopes her fans enjoy her stories as much as she enjoys writing them. She has self-published her novels to make them more affordable and accessible to her fans. She would love for readers to leave reviews at Amazon. What Christina James book would you love to see in film? Christina is working hard on some film projects and will keep fans updated.
Follow Christina on Twitter @christinajames3
Readers can reach Christina at christina.james@comcast.net or by clicking the "Contact" button on the sidebar.
Christina at a 2011 booksigning in Massachusetts: